Sport Attack 4 - 160/60R17 69W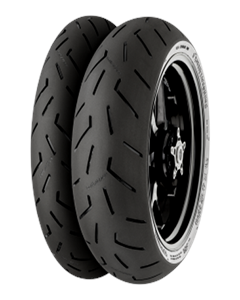 160/60R17 CO SPORT ATTACK 4 69W (R)
Our Latest Hypersport Tyre: Giving Riders The Ultimate In German Engineered Performance!
100% Made in Germany.
Allows you to ride right on the edge, with our unique Grip Limit Feedback technology.
Race-inspired Black Chili compound and tread pattern which also offers highly effective water clearance on wet roads.
MultiGrip technology improves mileage over previous generation tyres 2 by creating a wear resistant central area and progressively increasing grip levels towards the shoulder, with no sudden change in compound.
Traction Skin provides an extremely safe and short tyre run-in times. This is possible due to the revolutionary micro-roughness of the tread surface, which is the result of the new tyre mould coating technology which eliminates the need for tyre-release agents.